These days it seems to be all about personalization for Brides and Grooms. Gone forever are the cookie cutter weddings. And what better place to begin than with the invitation.
This spot-on trend known as blind letterpress combines the use of the ink accompanied by an embossed design sans ink. How gorgeous is this?! (Czar Press
http://www.czarpress.blogspot.com
)
And how about this unusual lovely from Albertine Press
Replacing the more traditional monogram is the use of the embossed and inked motif or ornament. Also from Albertinepress.com
Ever popular in the South is the calligraphy invitation. This invitation takes the traditional form and updates it just enough to give it a more contemporary flair.
The calligraphy on this traditional invitation was printed in a soft brown ink, a more contemporary choice from Pendance Calligraphy and Engraving (www.pendance.us)
from Pen Dance
Other options include combining calligraphy elements on the invitation with offset printing or engraving (www.pendance.us/calligraphy)
also from Pen Dance
I married back in the day when
Crane
paper and hand engraving were
de rigueur
for nearly every Southern bride. Font choices were limited and only ecru paper was used. Guests were also expected to RSVP on their own personal correspondence cards. We did use an enclosure card for the reception at the "home of the bride," but there was not a separate RSVP card. These days I doubt you would get much of a response if you did not include a self-addressed, stamped reply card!
Even though Crane Company is still around and are purveyors of fine stationary, the most beautiful paper I have ever seen comes from Amalfi, Italy, and is called simply Amalfi Paper. The deckle edge, gorgeous watermark crest and weight of the paper give it a distinction that is recognized worldwide. Amalfi paper is made by hand in a process that dates from the Middle Ages utilizing 100% natural (no dyes) high grade cotton.. For the ecologically minded bride who has a taste for elegance, Amalfi paper is an exquisite and timeless choice.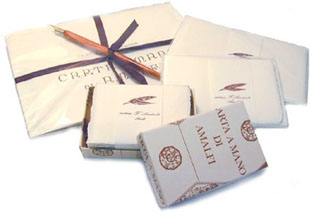 Amalfi paper from Scribesdelight.com
There are so many choices available to brides today that it is staggering. I prefer invitations that combine tradition with inspiration and innovation, but whether you choose contemporary, traditional, or a marriage of the two, there will be little doubt that it will be YOUR special day, so celebrate in style!