When my oldest grandchild comes to visit we love to read books, dance to music, play our own music and mess around with a hose and a bucket of water, among other things. We also play endlessly with The Daughter's dollhouse, creating make believe lives for the mother bunny and the two babies who live in the house. The Husband commented to me recently that Little One has already, in her short lifetime, enjoyed the dollhouse far more than The Daughter ever did. When The Daughter and I talked about it, I realized that when Little One or Little Two come to visit, they are my sole priority. The cooking and cleaning and endless list of chores are put on hold until they leave. They have my complete and undivided attention, something I was rarely able to give my four children (I had three under four) when they were growing up. I don't feel bad about it. It was my life as I knew it. But life with grandchildren is different. And I am very thankful for that fact.
This past week I picked up a few craft items to begin to put together an art box for Little One and Little Two. I don't want to assemble too many items -- just enough to spark the imagination. Here's what I plan to have in my box.
Nonna's Toddler Craft Kit
1. A non-toxic glue stick. This one by Coccoina looks perfect! It has no petroleum or solvents and washes off easily with water. I found a great price at
greeapplesupply.org
2. Brightly colored yarn.
3. Ziplock bags with dyed pasta shapes (mararoni and rotini). I will use these in lieu of wooden beads. I love colored wooden beads, but there is too much of a temptation for these to end up in little mouths. I remember from my preschool days that they are a lot less likely to eat a hard piece of pasta.
4. Crayons. I am not going with the typical crayons. I found these amazing soy based (which means they are softer) crayon rocks at the woodenwagon.com. They will be perfect in my craft box.
5. 10 Small Brown lunch bags. You know the garden variety type. Preferably plain and constructed of recycled paper. We will use these for puppets or storage. This Elmo is darling, but he is a lot more complicated that what I have in mind!
6. Assorted colored squares of felt
8. Cotton balls. For clouds, of course, and sheep and hair!
9. 10 paper plates. No explanation necessary!
10. Non-toxic washable markers. I found these at stubbypencilsstudio.com. The nice thing is that if they start to dry out, you simple soak the tip in a little water and they renew themselves!
11. Blunt tip scissors. Apparently, these from Doug and Melissa actually do the trick. So many are too lightweight or too blunt to actually cut a piece of paper. Even though these are safety scissors, they should remain in their special container and only be used under direct supervision. It's just too easy to cut hair or clothes or something else when Nonna is not looking! Available at
amazon.com
12. A pack of construction paper, white paper and an assortment of cardboard pieces. Available from amazon.com
13. A fun container! No totes for me! I want something that has a closed top, a handle and a clasp that requires adult assistance to open! Both of these options are available at The Container Store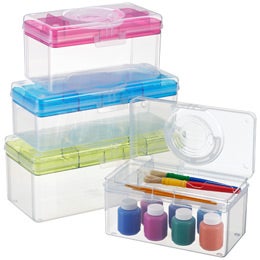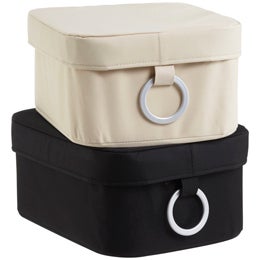 Feel free to add additional items to your toddler craft box. I left out paints because we already have an easel available for painting projects. Another tip: if you put a craft box together for your child or grandchild, why not do two? Then you can give one away as a gift. Some lucky mother or Nonna will thank you later!
Here are some pictures of Little One crafting on her last visit to Nonna's. She is assisted by her Pappy, aka The Husband!