For the first twenty-five years that my husband and I were married, I bought something reminiscent of the nativity as a part of our Christmas gift to one another. Thus it is that our home at Christmas is filled with creches. When Christmas is over, I don't even put them all away. Some of them remain in place throughout the year as a perpetual reminder of the "Gift" they represent. As you might surmise, these creches come in all shapes and sizes. Some are ornaments that hang upon the tree; others are fashioned of wood, ceramic, or clay, and one set is made entirely of felt...it is perfect for little hands to hold and to move and to place just so over and over again. The other day Little One ran immediately to this nativity set and alternately carried the cow, the camel and the wise men around for long periods of time. After she left, I continued to find the pieces hidden away in the most unusual places.
Little One's favorite creche



However, my favorite of all the creches is one that unless you know the story is unlikely to draw your attention. Despite is supposed lack of beauty, this particular creche takes center stage in our home and is there to greet you when you open the door to our house; it sits on the entry hall table. It has a base made by one of my children of unfired (basically dried) clay; three little figures made by another of my children (there were once four figures, but sadly, Joseph has completely disintegrated), a banner hand-lettered by yet another child, and finally, a tiny clay plaque made by yet another. In short, it represents the collective efforts of all four of our offspring, but it was not planned to be that way -- it simply happened.
The banner is twenty-three years old. I wouldn't trade anything in the world for the "Goly to God in the highest..." Goly was a first grader's way of writing "Glory," but I am sure that God understood exactly what this child of mine was trying to say. Another child lovingly crafted the base which originally was shaped more like a cave and had an overhanging top that has long since broken off. It holds the three figures (there were once four). There is Mary; she is the figure on the right bending over the tiny figure resting on a bed of clay. It is Baby Jesus but his head is no longer attached to his body and must be carefully positioned or it will roll off on its own. To the left of Jesus and Mary is a lion. When the son who made the figures came home with this nativity with the lion, I had the audacity to ask him, "A lion?" You should learn early never to ask children questions like this, unless you want to immediately be put in your place. I will never forget that he looked at me with something akin to disdain as he said, "Of course, Mommy, the lion goes with the lamb." And so it does. I cried. He patted me. The Lion of Judah and the Lamb of God...they go together, do they not, and indeed, are they not one and the same? Yes, some of the most profound truths come out of the mouth of babes.
The final complement to this treasured creche is the little clay plaque in the back: you can barely read it, but in case you can't, I'll tell you: It says, "Jesus I Love You." It was originally supposed to be a cross, an Easter decoration, but when this child brought it home he told me,"I couldn't do the cross, Mommy, I wrote Jesus a letter instead. I thought He might like it better than the cross. I wanted to tell Him thank you." I cried again. He said, "I want it to go with the manger." It was springtime so I asked again, "Do you want me to put it with the Easter things?" He shook his head firmly. "No, this cross is a letter, and it goes with the manger."
How could it be that a child understood something so deep, so powerful, so profound? How could he grasp at the age of five, the very essence of the cross? How could he know that the cross, the terrible, wondrous cross, is also a letter, an I-love-you letter from a Holy God to His beloved, yet sinful people.
So you see perhaps why this tiny fragile nativity holds a place so dear to this mother's heart. Each child of mine made his or her contribution, unplanned and unscripted over the course of many years to make it complete. There is a Banner of Love (Goly to God...). A little cave to cradle the Holy Family. A lion to stand guard and to lie down with the lamb. And finally, a love letter that would and should have been a cross, except that a little boy wanted so much to write this letter to say thank you to Jesus for the cross. And the child knew intuitively that this was no ordinary baby, this was a baby born to die to save us from our sins. Christmas irrevocably linked to Easter. It is no accident that we must become as little children, is it? And once again, I cry, "Lord help my unbelief. Help each of us to believe with the wonder and the certain faith of a child."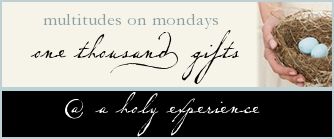 It is my Advent song this year...