Sigh. The Daughter is getting ready to remodel and expand her house, and she is building a new laundry room. Never mind that she already has a laundry room (well, sorta). I, on the other hand have a washer and dryer that live behind louvered doors in my KITCHEN. That means I am always folding and sorting laundry on my kitchen table. The only silver lining in this arrangement is the fact that the dryer sheets make my kitchen smell good...most of the time.
The Daughter asked me today what my ideal laundry room would look like. We understood one another immediately. Women speak the same language when it comes to laundry rooms...the operative word is a ROOM for the laundry. Not a space. Not a closet in the middle of the kitchen. A ROOM.
So I promptly got to work with my day-dreaming...cause of course, the next best thing to having your own remodel is having someone you love get the remodel. So here's to the laundry room of my dreams -- which is the only place that mine will ever exist...but hey, I don't live in a country without running water nor am I washing my clothes in a metal tub like some folks I know, so I cannot complain too much. But here's to dreaming...and off, I go.
This is my in-a-perfect-world list of laundry must-haves:
A new washer and dryer. I really don't like front loaders and think that they are vastly overrated, but if you are looking for a washer/dryer choice that will allow you to add a folding surface in the most space efficient manner, then the front loaders make perfect sense.
A folding surface. A must-have that should be long (3-4 feet, if possible) and completely flat. Avoid breaking the space up, if possible.
An apron sink with a sprayer. Actually any utility type of sink would do, but since this is the Paradise version of a laundry room, I am sticking with the apron sink.
Open and adjustable shelving. Who wants to open cabinets in a laundry room? When you are in a hurry and trying to get that load of wash going, you don't want to be opening cabinets. You want to reach for the detergent, the Oxy-Clean, the stain stick, or whatever else you need and get the show on the road. I have seen laundry rooms with cabinets with glass doors, but frankly, who cares?
Baskets for sorting and folding and some type of accessible storage for the baskets. I don't want my sorting and folding baskets stacked on my loooonng lovely folding counter.
A hanging bar. Mine consists of a couple of bungy cords looped together and strung between two super-dooper cup hooks that are screwed into a stud on each side. It is not pretty and you can't hang much up there, but necessity is the mother of invention. A hanging bar is a MUST!

Assorted hooks and perhaps a towel bar, cause you always have something that needs to go on a hook. Like a bra. Or your Spanx.

A nice bright light. You need to see those stains, sister, so you can treat them properly and so you won't screw up and match a navy sock with a black. Maybe even some specific lighting over the sink in addition to the nice bright overhead lighting.
A door that closes.
I am purposefully not putting an ironing board in my laundry room because all of my friends who have them don't use them. They still put up their ironing board in their bedroom. So I am not even gonna think about wasting my money on that pricey little item.
And now here are some pictures to help you get in the right frame of mind for doing your own laundry room remodel.
First up are the lovely stainless steel finishes in this space. I am totally enamoured with the backsplash behind the sink but I think that oval sink is way too small. However Sarah Richardson won me back over with that sprayer. I also am NOT a fan of the glass doors. Like I said before, I think they are totally superfluous. But I love the bright white light and the frosted glass door is okay...as long as it can hide the real story about how many days in a row you just didn't feel like getting any laundry done...
This picture has made the rounds so you may have seen it before. I am a huge fan of that farmhouse/apron sink along with the open shelving. I think it's genius to have a place where you can keep pillows. Up, up and away they go! I also like the can lights, but don't particularly care for the potting shed vibe going on side-by-side with the washing and drying, but who am I to talk?!
And here is a great example of a sorting station. My children each had a basket that looked just like these. It was a system that worked for me and one that won't break the bank!
I also found this gem, which works well if you would prefer a vertical option.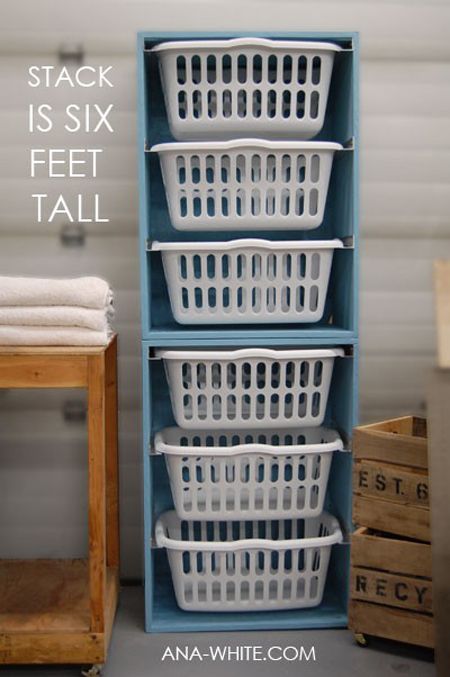 And here is some bar love for you...sigh...it's the little things...
As usual, Ikea has great options for making the best use of limited space.
How about this great hanging choice for a tight space...
Alas, I am aware that laundry rooms come in all shapes and sizes. You generally make
do with what you have. If your space is narrow, this is a workable arrangement.
This space below is large enough to accommodate a sink, but not a folding counter.
I would probably have a board cut that would slip over the sink space
to give me a solid counter when the sink was not in use.
And this one is so large that I thought it must be from Texas. Turns
out it's in Idaho. I guess they do a lot of laundry in Idaho.
However, I think those wooden crates for sorting are totally lame.
Who's going to carry around a wooden crate?
I just couldn't resist posting this photo,
'cause this is usually how real life looks as least some of the time
Hopefully in about eight months, I will be able to post pictures of
The Daughter's house expansion and remodel.
First up will be her laundry room...in a pristine state, of course!