I bought these Pom Poms made by Martha Stewart at Big Lots when they had them on sale for a whopping $2.00. The Daughter and I used them at least four times. Then they died. I think we got our money's worth.
I also think I would have liked this pink rug in my room...when I was five.
Butterfly Rug by Surya
Anthropologie has these darling loafers. If I had an extra $168 lying around, I might buy them.Too bad. I don't.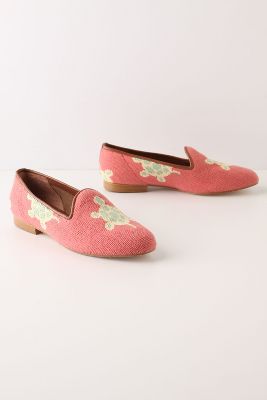 www.anthropologie.com
Their rose knob is a little better priced at $8.00. I think I could probably swing a couple of those.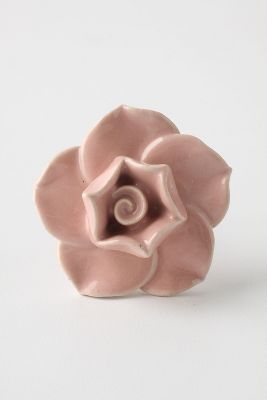 www.anthropologie.com
Antiquaria is one of my favorite day-dreaming sites. How about this mixed place setting of china, with delightful touches of pink? And the best part is that each place setting may vary slightly, but each piece fits cohesively with the others to whom it is married...so you could be in for a delightful surprise when you open the box!
from antiquaria.bigcartel.com
Find these Matouk scalloped bed linens at Neiman-Marcus' "Pink Sale!" Warning: these are definitely a budget buster. Perhaps you could find a way to justify it by saying that Matouk linens last a long time. Might be worth a try.
Add caption
And no pink collection would be complete without something from the iconic
Thomas Pink
of London's Jermyn Street.
However, I would be hard-pressed to get The Husband in this.

or these.

And in another life and another time, I might ride this pink gem down the Amalfi Coast. My long blonde hair would be blowing in the wind. Oh wait, I am a brunette.
This little Vespa is bargain priced at under 5K...for somebody.
Given all of these options, who wouldn't want to be in the pink!