The older I get the less time I want to spend laboring over a hot stove, so I have reduced my holiday cooking to a few good things that I can prepare very quickly, sometimes even while I am doing something else. Here are five favorite go-to gifts that are not too labor intensive!
Spicy Pecans
There are endless variations of this dish and most are oh so easy. Thankfully, we no longer live in a day and time when we must shell and pick out the pecans ourselves. I grew up living in a pecan grove so I have certainly picked my share of pecans, and trust me, it is tedious work. Now I just hop over to the grocery store and find the freshest nuts available. To pick a good pecan, look for those that have not darkened in color (the oils in the pecan darken the flesh as it ages), are not brittle or shriveled and are still fragrant. If you follow these tips, you will pick good pecans every time!
Ingredients:
2 Tbsp cinnamon
1/2 Cup sugar (I cut it back slightly)
1/4 tsp nutmeg
1-2 egg whites
2 cups pecan halves
Mix the dry ingredients together in a large ziplock bag. In a separate bowl, beat the egg whites until foamy. I sometimes add a shake or two of Tabasco sauce at this point, but this is my own variation of the recipe. Dump the 2 cups of pecans into the egg white and stir to make sure they are coated, then empty the pecans into the ziplock bag, seal and shake well! Your granddaughter can help you with the shaking part!
Preheat oven to 300 degrees. Line a cookie sheet or jelly roll pan with aluminum foil. Coat lightly with cooking spray. Spread the pecans out on the pan and bake for 20 minutes. Cool and store in an airtight container. Wrap in a cellophane bag and tie with a ribbon!
Recipe can be easily doubled or tripled.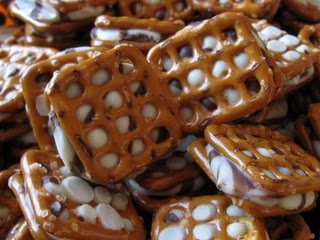 Pretzel Treats
Three easy variations for this.
Number One Tip: Go ahead and buy the waffle shaped pretzels which are called snaps. They seem to disappear quickly around the holidays so I pick up a bag or two whenever I can find them!
Ingredients:
1 pkg of waffle shaped pretzels
1 pkg of Hershey Hugs or Hershey Kisses (I buy the mixed bag)
Option 2: Red and Green M&M's
Option 3: Rolo's
Unwrap the Hugs and/or Kisses. I do this one evening, and then store the unwrapped candy in a ziplock bag. Line a cookie sheet with parchment paper (who wants to clean up?!). Preheat oven to 350. Line your cookie sheet with the pretzels and then place a Hug or a Kiss on top of each one. Set your timer for TWO minutes. No longer. Cook the pretzels with the Hugs and Kisses for the requisite two minutes. Remove from oven and immediately press another waffle pretzel on top to make a little pretzel cookie sandwich. Let cool and then store in a ziplock bag.
Option 2: You may also choose to press a red or green M&M into the top instead of the pretzel. Then you have an open-face treat as opposed to a little sandwich! It's also a bit sweeter and less salty than the other version.
Option 3: The decadent version. Buy Rolo's. Upwrap them. Try not to eat too many. Place the Rolo on top of the waffle pretzel. Heat. Press an M&M or another pretzel on top. Gooey. Caramelly. (That's not a word, I know.) Yummy. Also more expensive, but definitely worth the extra cost.
Nuts and Bolts
This is an old recipe that I received nearly 40 years ago by way of The Husband's grandmother Mimi. I still have the original recipe in her lovely handwriting. There are many variations to this recipe, but I love the slow cooked buttery goodness of this one. It's the slow roasting and stirring that let the flavors penetrate the nuts and bolts and make it delicious. Try it, you'll like it.
Ingredients
4 cups of Cheerios (may use whole wheat, if preferred)
3 cups of Wheat Chex
3 cups of Rice Chex
3 cups of Corn Chex
2 1/2 cups of unsalted mixed nuts (preferably with cashews)
4 cups of skinny little pretzel sticks
4-6 Tbsp Worcestershire Sauce
1 1/2 cups unsalted butter (no substitute)
1 Tbsp celery salt
1-2 tsp garlic powder
1-2 tsp onion powder
Melt butter, Worcestershire Sauce and spices together in a large roasting pan. Add remaining ingredients and stir until well coated. Bake at 200 degrees for 2 hours, stirring every 20-30 minutes.
Cool and package into airtight containers.
At my house, each person likes a different component and will dig through to pick it out. You won't find any cashews left after my husband has been around, while I prefer the Cheerios!
Fire 'n Ice Pickles
You don't really "pickle" these because they have already been pickled, but you are "dressing" them up in a little holiday finery that is the perfect combination of sweet and spicy.
Ingredients:
1/2 gallon of dill pickles (you don't need to buy the expensive name brand)
1 head of garlic, peeled and minced
2 lbs of white sugar
1 (2 ounce) bottle of Tabasco (must be this brand!)
Red pepper flakes
1 gallon jar
Drain your pickles and discard the juice. Slice your pickles into substantial rounds (not too thin). Layer in the larger jar in following order: a layer of pickle slices, a layer of garlic, a couple of shakes of hot sauce, a blanket of sugar, flakes. Repeat until all used up.
Put the jar into the refrigerator and turn it over every day. Upside down. Then right side up. In about 5 days your amazing pickles will be crisp and ready to eat!
Reindeer Nutter Butters
Haven't made these yet, but I picked up a couple of packages of Nutter Butters at the grocery store this week, and I have the rest of the ingredients on hand so I think I am good to go! I am hoping you just use the icing (royal from Wilton is my easy choice) to get the pretzel ears to adhere. Then pipe the eyes and put a bit where you will stick the red nose (for Rudolph, of course!) I am betting that is black licorice for the mouth but I am going to use a bit of chocolate instead.
Happy Cooking, Happy Eating, and Happy Gifting. 'Tis the Season to do all three!